W niedzielę 29 maja o godz. 17.00 w ramach 10 Festiwalu Wyobraźni Centrum Kultury "Scena to dziwna" zaprasza na koncert septetu Movie Jazz.
MOVIE JAZZ  – to formacja powstała w 2010 roku. Tworzą ją poznańscy muzycy – pedagodzy, instrumentaliści współpracujący z czołowymi postaciami polskiej sceny jazzowej i rozrywkowej. Wielokrotnie doceniani podczas licznych konkursów i festiwali muzycznych zarówno w Polsce jak i za granicą. W składzie Movie Jazz wielokrotnie gościli uznani artyści polskiej sceny jazzowej, jak Maciej Sikała, Piotr Baron, Przemysław Jarosz, Jakub Olejnik i inni. Zestawienie czterech improwizujących saksofonów i jazzowej sekcji rytmicznej tworzy niezwykły, dynamiczny i pełen ekspresji efekt. Fundamentem muzycznych zjawisk w Movie Jazz są oryginalne aranżacje, stworzone wyłącznie dla tego składu.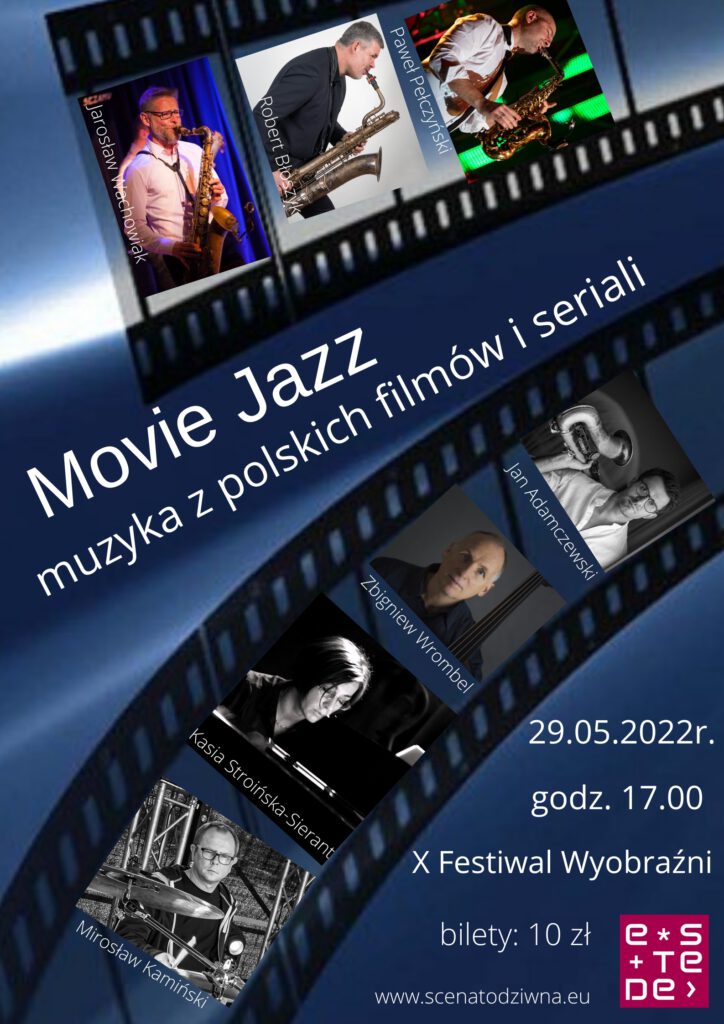 Repertuar zespołu opiera się na popularnych tematach z polskich filmów i seriali od okresu 20-lecia międzywojennego po czasy współczesne. Podczas koncertu Movie Jazz będzie można usłyszeć tematy ze znanych filmów i seriali, m.in.: "Czterdziestolatek", "Czterej pancerni i pies", "Vabank", "Kariera Nikodema Dyzmy", "07 zgłoś się", "Stawka większa niż życie".
Movie Jazz tworzą:
Katarzyna Stroińska – Sierant – piano
Zbigniew Wrombel – bass
Mirosław Kamiński – drums
Jan Adamczewski – s. sax, a. sax, t. sax, flute
Jarosław Wachowiak – s. sax, t. sax
Paweł Pełczyński – t. sax
Robert Błoszyk – t. sax, bar. Sax
Bilety do nabycia w eSTeDe.
CK eSTeDe