W piątek, 22 kwietnia 2022 roku o godzinie 16.00 Centrum Kultury "Scena to dziwna" przemieni się w przestrzeń niecodziennego dialogu.
W CK eSTeDe będzie mieć miejsce wydarzenie niezwykłe: "Żywa Biblioteka". Inicjatywa ta odbywa się w ramach projektu "Lokalnie dla różnorodności". Projekt realizowany jest przez Stowarzyszenie Diversja przy wsparciu Credit Agricole Bank Polska z dotacji programu Aktywni Obywatele – Fundusz Krajowy finansowanego przez Islandię, Liechtenstein i Norwegię w ramach funduszy EOG.
Czym jest "Żywa Biblioteka"?
"Poznaj żeby zrozumieć" to hasło, które oddaje ideę "Żywej Biblioteki". W tej bibliotece "książkami" są ludzie z różnych grup obarczonych stereotypami (wyznawcy różnych religii, osoby o różnych odcieniach skóry, z różnym stopniem sprawności fizycznej, różnej orientacji seksualnej itp.). "Czytelnicy" mogą ich "wypożyczyć" i porozmawiać z nimi. Rozmowa potrwa do 30 minut. Nad całością wydarzenia będą czuwać "bibliotekarze".
Nie tylko "książki"
Po zakończeniu "Żywej Biblioteki" wykład o tematyce antydyskryminacyjnej pt. "Strefy wolne od zdrowia psychicznego", wygłosi psycholog Dominik Haak.
Współorganizatorami wydarzenia są: I Liceum Ogólnokształcące w Gnieźnie, Publiczna Biblioteka Pedagogiczna w Poznaniu filia w Gnieźnie, Zespół Szkół Ponadpodstawowych nr 3 w Gnieźnie oraz Gnieźnieńska Szkoła Wyższa Milenium.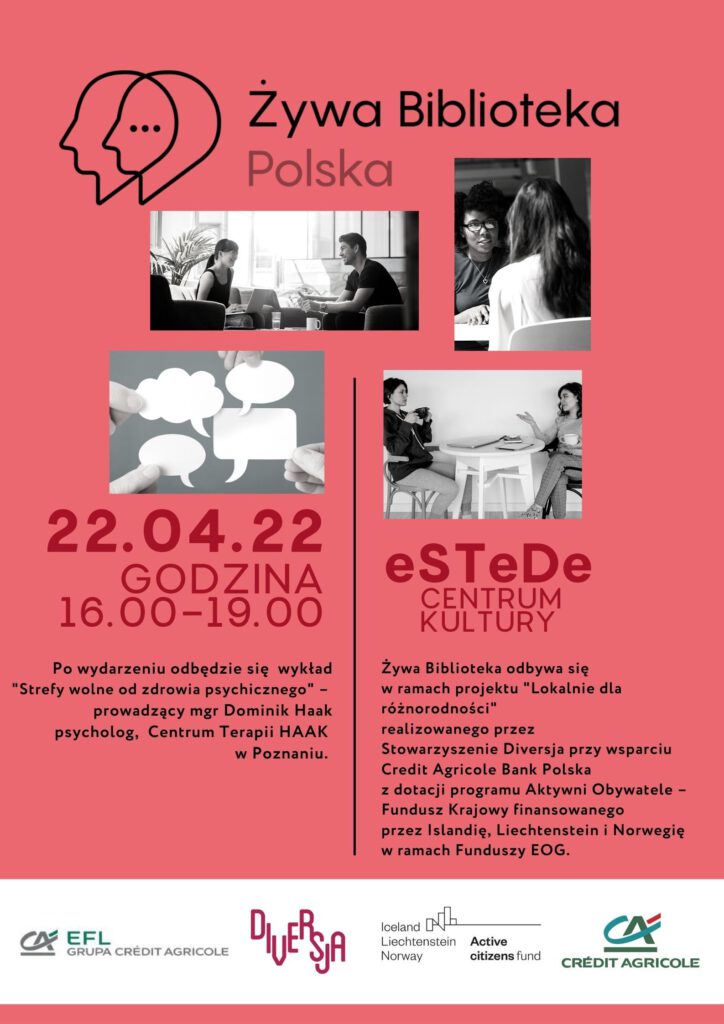 CK eSTeDe