Biblioteka to nie tylko katalogi i regały z książkami, to też miejsce w którym tętni życie lokalnej społeczności – kulturalne, społeczne, towarzyskie. Dlatego biblioteki uważane są za tzw. "trzecie miejsca" – obok domu oraz miejsca pracy/szkoły – w których spędza się wolny czas.
Takim trzecim miejscem, coraz aktywniej rozkwitającym, jest w Gnieźnie Czytelnia Biblioteki Głównej. Na wiosnę ruszają tam dwa nowe kluby czytelnicze, które usprawnią… ręce i języki.
Klub "Tea Time" – rozmówki w języku angielskim
Na te spotkania, które na stałe dołączą do bibliotecznej oferty – miejska książnica zaprasza raz w miesiącu do Czytelni Biblioteki Głównej, przy ul. Mieszka I 16. Można będzie odświeżyć lub poprawić swoje umiejętności komunikacji w języku angielskim. Organizatorzy liczą szczególnie na tych, którzy kiedyś biegle posługiwali się angielskim w mowie, a teraz nie mają zbyt wiele okazji do jego wykorzystania. Zresztą mile widziani będą wszyscy, którzy mają chęć poświęcić kilka kwadransów na popołudniową konwersację w obcym języku. Angielskim zwyczajem popołudniowych herbatek spotkania klubu zaczynać się będą o godz. 17.00. Pierwsze – w środę 23 marca.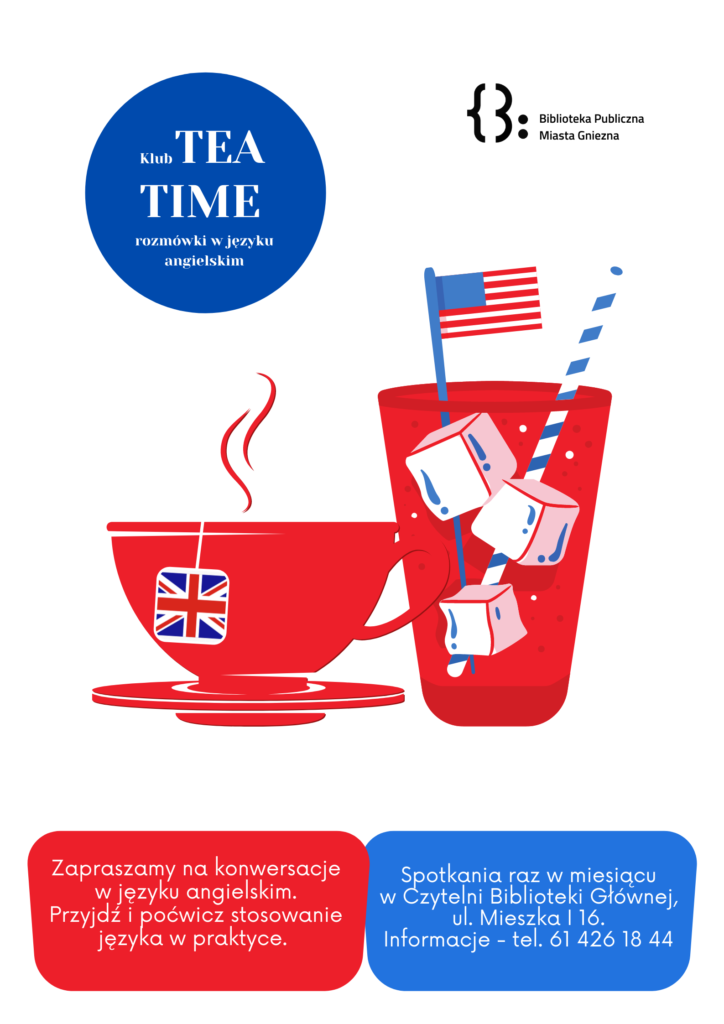 "Sprawne ręce" – klub rękodzieła
To propozycja dla miłośników dzieł tworzonych własnoręcznie. Jeśli w zakresie waszych zainteresowań znajdują się takie specjalistyczne narzędzia jak: druty, szydełko, kordonek, tamborek, mulina, sznurek lub najzwyklejsza igła z nitką – biblioteka zaprasza do drużyny "Sprawnych rąk". Oprócz dylematów typu: "Druty czy szydełko? Frywolitka czy makrama? A może haft?" klub będzie podejmował także inne. To miejsce idealne, aby spędzić czas z osobami o podobnych zainteresowaniach lub oderwać od codziennych problemów. Ważne jest też dzielenie się doświadczeniami – w takiej grupie zawsze można nauczyć się czegoś nowego. Biblioteka zachęca – "Weź swoją robótkę i przyjdź do Czytelni Biblioteki Głównej. Jeszcze nie masz robótki – przyjdź, może cię zainspirujemy i nauczymy nowej techniki".
Pierwsze spotkanie w czwartek, 24 marca, o godz. 16:00. Rękodzielnicze mitingi, podobnie jak większość spotkań klubów w BPMG, odbywać się będą raz w miesiącu.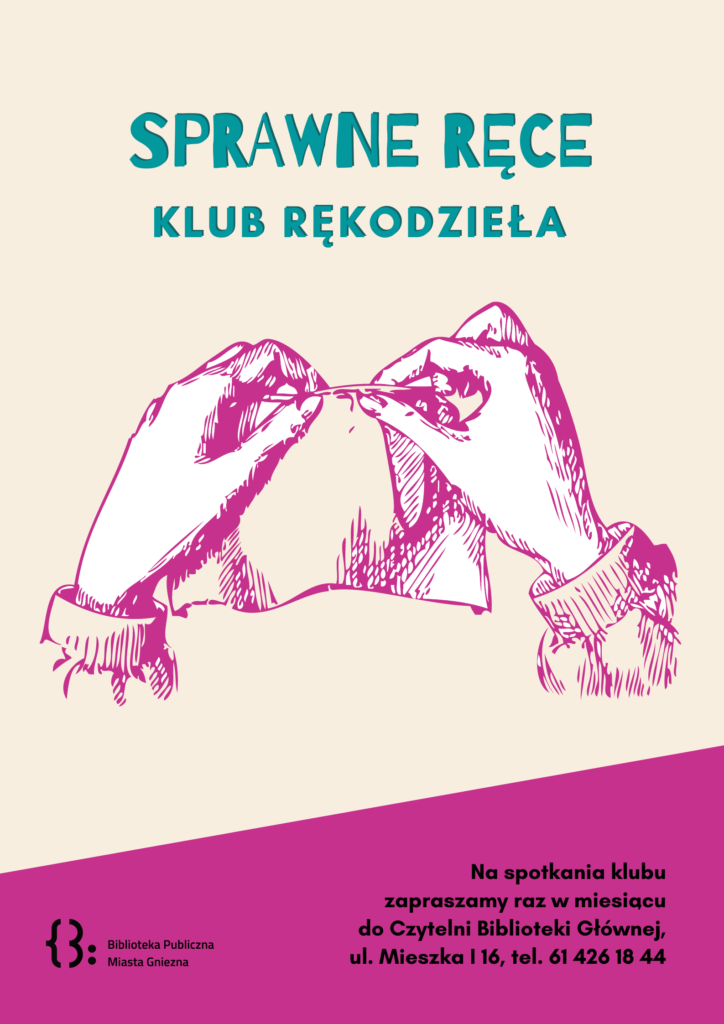 BPMG