Do Centrum Kultury eSTeDe powraca w pełnej krasie Festiwal Wyobraźni. Po przerwie spowodowanej pandemią zaprezentowano dziś tegoroczny program X edycji wydarzenia.
Festiwal Wyobraźni odbędzie się w dniach 26-29 maja. Czas ten wypełnią różnorodne atrakcje i ciekawe wydarzenia. Będa to koncerty, spektakle i unikatowe wystawy. Motywem przewodnim Festiwalu jest w tym roku postać Ambrożego Kleksa.
PROGRAM WYDARZENIA
Czwartek
19:00 WYSTAWA OBRAZÓW ŁUKASZA KASPERCZYKA
Łukasz Kasperczyk malarstwem zajmuje się od wielu lat, inspirując się twórczością takich artystów jak Z. Beksiński, Witkacy, S. Dali, H.R. Giger i innych poszukujących i przetwarzających przedmioty w charakterystyczny sposób. Wystawa ma charakter wyjątkowy, ponieważ obrazy artysty wyprzedają się błyskawicznie, tylko dzięki wsparciu prywatnych właścicieli obrazów udało się zorganizować to niepowtarzalne wydarzenie. Więcej o wystawie pisaliśmy tutaj.
Piątek

16:00 SPEKTAKL DLA DZIECI "W PRACOWNI AMBROŻEGO KLEKSA"
Centrum Kultury "Scena to dziwna" zaprasza dzieci do "Pracowni Ambrożego Kleksa", gdzie magia wprowadzi w zachwyt nie tylko młodych adeptów Akademii, ale również tych, którzy ją dawno temu ukończyli. Spektakl jest połączeniem legendarnej bajkowej postaci Pana Kleksa z unikalnym widowiskiem teatralnym z wykorzystaniem efektów światła i zaangażowania najmłodszej publiczności. Czas jest nieprzypadkowy, bowiem zbliża się Dzień Dziecka. O wydarzeniu pisaliśmy tutaj.
20:00 KONCERT WAGLEWSKI & KASAI
Wojciech Waglewski & KASAI (gitara/głos & pianino/elektronika/głos). Najnowszy duet Wojciecha Waglewskiego jest wynikiem muzycznej przyjaźni z Kasią Piszek (Kasai) – pianistką, kompozytorką, autorką tekstów, wokalistką i producentką, mającą na koncie współpracę z czołówką krajowej sceny muzycznej. Bezpośrednim impulsem do wspólnego grania był występ dla Radia 357. Przed słuchaczami otworzy się nowy, muzyczny wymiar.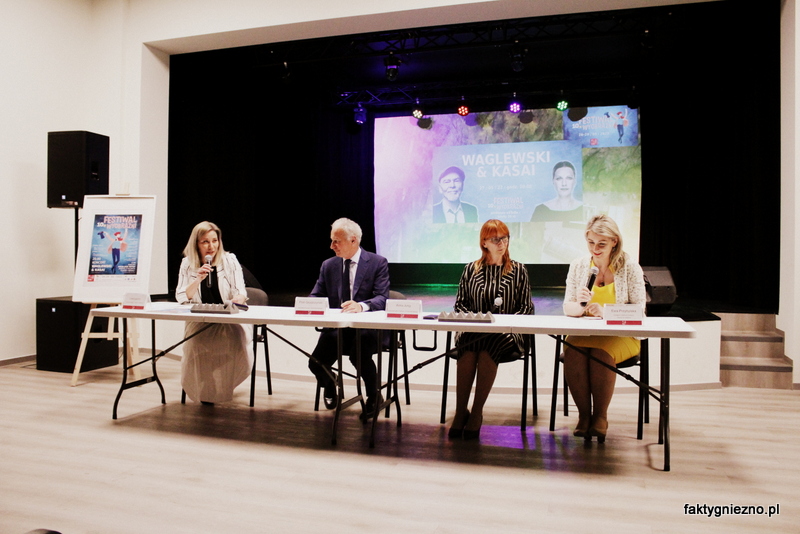 Sobota
13:00 – 15:00 W ŚWIECIE PANA KLEKSA
W sobotę, 28 maja, w godzinach od 13.00 do 15.00 eSTeDe zaprasza do ogrodu na zabawy ruchowe, warsztaty plastyczne, taneczne i rękodzielnicze dla dzieci i dorosłych. Zajęcia powstały wspólnie z: 44 Szczepem Harcerskim Krzemień, Lady Cat, Klubem Karate Inochi Gniezno, Twoim Robotem oraz Akademią Nauki Gniezno.
16:00 WYSTAWA "PIĘKNE I TAJEMNICZE"
Wystawa jest efektem marcowych warsztatów, prezentująca kobiece sylwetki ze znanych obrazów i dzieł sztuki, w które wcieliły się uczestniczki.
17:00 KONCERT ZESPOŁU FAN ART.
19:00 KONCERT MŁODYCH ARTYSTÓW "WITAJCIE W NASZEJ BAJCE"
Wystąpią zespoły EL Wiwi i GAUGUNS oraz przedstawiciele gnieźnieńskiej sceny rapowej.
Niedziela
13:00 – 15:00 W ŚWIECIE PANA KLEKSA
W niedzielę ponownie do ogrodu eSTeDe zawitają zabawy ruchowe, warsztaty plastyczne, taneczne i rękodzielnicze dla dzieci i dorosłych. Odbędą się również warsztaty robotyki i gra edukacyjna "Gniew smoka".
17:00 KONCERT MOVIE JAZZ
MOVIE JAZZ – to formacja powstała w 2010 roku. Tworzą ją poznańscy muzycy – pedagodzy, instrumentaliści współpracujący z czołowymi postaciami polskiej sceny jazzowej i rozrywkowej. Fundamentem wszelkich muzycznych zjawisk w Movie Jazz są oryginalne aranżacje, stworzone wyłącznie dla tego składu a motywem przewodnim jest muzyka z filmów i seriali. Więcej o koncercie można przeczytać tutaj.
Movie Jazz tworzą:
Katarzyna Stroińska – Sierant – piano
Zbigniew Wrobel – bass
Mirosław Kamiński – drums
Jan Adamczewski – s. sax, a. sax, t. sax, flute
Jarosław Wachowiak – s. sax, t. sax
Paweł Pełczyński – t. sax
Robert Błoszyk – t. sax, bar. sax