Centrum Kultury "Scena to dziwna" zaprasza dzieci do "Pracowni Ambrożego Kleksa". Będzie to miejsce pełne magii, która zachwyci zarówno dzieci jak i dorosłych.

Do roztańczonej, rozśpiewanej i pełnej magii pracowni Profesora Kleksa będzie można wyruszyć w piątek, 27 maja o godzinie 16.00. Dzieci i dorosłych zabierze tam Teatr Pana O.
Na widzów czeka niezwykły spektakl, podczas którego postacie wchodzą w interakcje z publicznością, a wszystko to w otoczeniu niepowtarzalnych wrażeń wizualnych. Przedstawienie jest połączeniem polskiej klasyki literatury dziecięcej z unikalnym widowiskiem teatralnym, z wykorzystaniem efektów światła UV i różnych technik scenicznych. Aktorzy w barwnej oprawie wprowadzają w podróż po świecie wyobraźni Jana Brzechwy.

Bezpłatne wejściówki na spektakl można odbierać w Centrum Kultury "Scena to dziwna" od poniedziałku do piątku w godzinach od 8.00 do 18.00. Ilość miejsc ograniczona.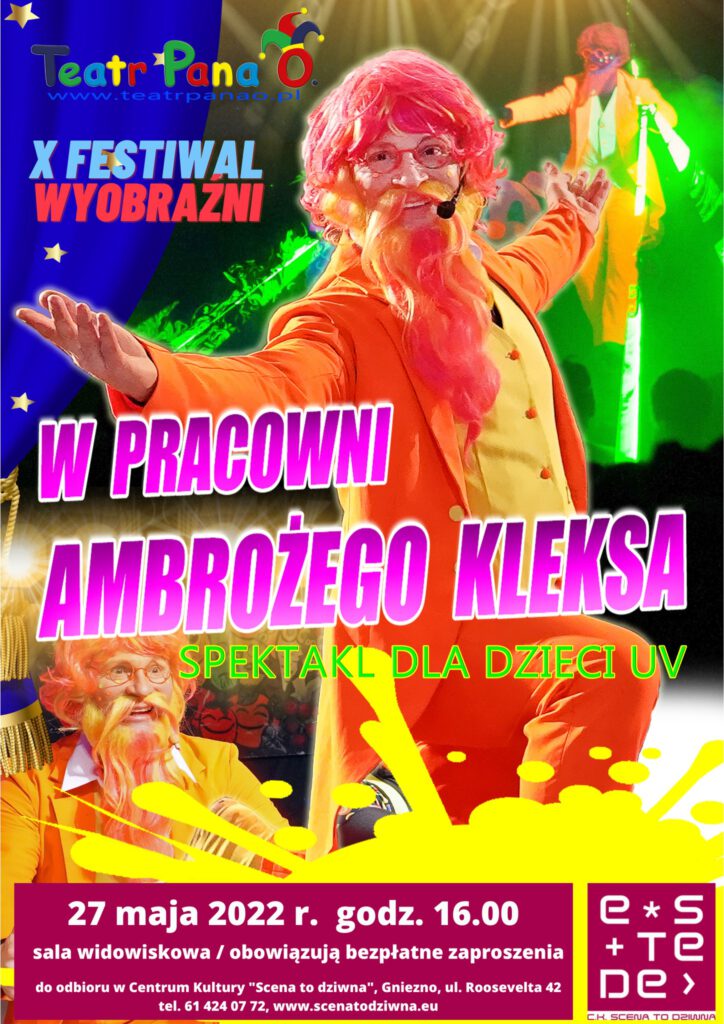 CK eSTeDe