W ramach przypadających na czerwiec Dni Witkowa 2022 Miasto i Gmina Witkowo przygotowują nietuzinkowe wydarzenie.
Już pod koniec ubiegłego roku wraz z rozpoczęciem rozmów na linii Klub Sportowy "MMA Witkowo" – Władze Witkowa zaczęto przygotowania do Gali. Efektem spotkań Łukasza Bosackiego – Prezesa oraz Trenera z Marianem Gadzińskim – Burmistrzem Gminy i Miasta w Witkowie oraz Radnymi Rady Miejskiej było podjęcie decyzji o organizacji tego wydarzenia na Stadionie Miejskim przy ulicy Sportowej. Przed publicznością zaprezentują się miejscowi zawodnicy MMA Witkowo, a ich rywalami będą reprezentanci klubów z całej Polski.
– Pomysł na organizację gali MMA w Witkowie tlił się w naszych głowach już od kilku lat, ale nigdy nie było odpowiedniego do tej organizacji czasu, miejsca oraz "fundamentu". Aktualnie w 2022 roku Klub Sportowy MMA Witkowo obchodzi 10-lecie istnienia i stwierdziliśmy, że jest to idealny moment na zorganizowanie takiej imprezy. Stadion Miejski w Witkowie jak żadne inne miejsce kojarzy się ze sportowym widowiskiem. Mamy nadzieję, że to widowisko przejdzie do historii i rokrocznie będziemy organizować kolejne jubileusze klubowe zwieńczone galą MMA – mówi współorganizator Łukasz Bosacki.
Witkowska Gala MMA odbędzie się 18 czerwca w ramach Dni Witkowa (18-19 czerwca), a rozpocznie się o godzinie 19:00.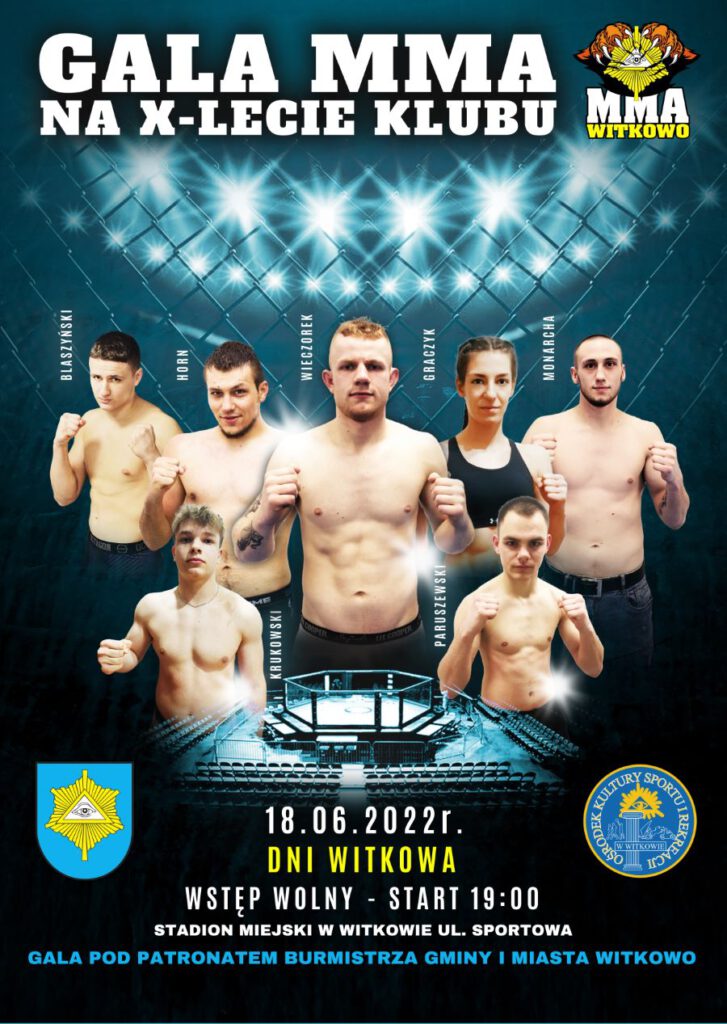 witkowo.pl