Centrum Kultury "Scena to dziwna" zaprasza na Potańcówkę ludową z muzyką na żywo.
Taneczne spotkanie odbędzie się 14 maja o godzinie 18.00 w Centrum Kultury "Scena to dziwna". Liczne atrakcje przygotował dla przybyłych Zespół Tańca Ludowego "Gniezno". Na uczestników czekają między innymi: nauka tańca, konkursy, słodki poczęstunek oraz możliwość zrobienia sobie zdjęcia w stroju ludowym. 
Działający przy CK eSTeDe Zespół Tańca Ludowego ,,Gniezno'' powstał 5 października 2016r. W swoich szeregach skupia dzieci, młodzież i osoby dorosłe. Celem jego artystycznej działalności jest pielęgnowanie, kultywowanie i propagowanie polskiego folkloru oraz tradycji ludowych. Zespół to przede wszystkim taniec, przyśpiewki oraz tradycyjne zwyczaje i obrzędy.
Od początku powstania Zespołu jego Kierownikiem artystycznym, choreografem i instruktorem jest Irena Kolanowska – ogromna pasjonatka folkloru, wieloletnia tancerka Zespołu Folklorystycznego ,,Szamotuły".
Na repertuar Zespołu składają się:
– tańce szamotulskie, tańce łowickie
– kujawiak narodowy, polonez
– obrzęd dożynkowy
– kolędy i pastorałki, noc Kupały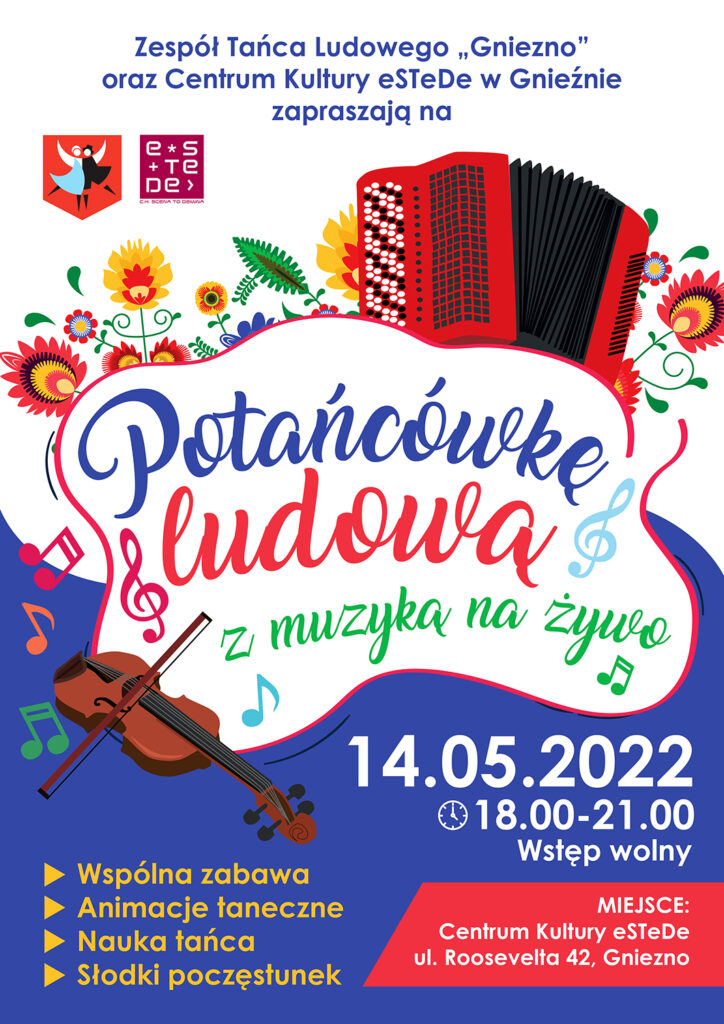 CK eSTeDe