Już w momencie powstania pomysłu pokazania czerniejewskiej publiczności filmu pt.,,Widokówka", wiadomym było, że bez wzruszeń się nie obędzie, gdyż sam temat filmu i jego główny bohater Antoni Lach byli tego gwarancją.
Nie można bowiem przejść obojętnie wobec wyjątkowej historii wyjątkowego człowieka, wychowanka domu dziecka w czerniejewskim pałacu, który wraz z innymi dziećmi trafił z Pieskowej Skały do Czerniejewa w 1945 roku. Człowiek ów urodził się na polskiej wtedy Ukrainie i w czasie wojny, za sprawą RGO (Rada Główna Opiekuńcza) i za zgodą Niemców, aby ratować życie przed OUN, czyli UPA, trafił wraz z grupą innych dzieci do Pieskowej Skały, a po zakończeniu wojny do czerniejewskiego pałacu, gdzie urządzono Dom Dziecka.
Film powstał dzięki inicjatywie śp. Szczepana Kropaczewskiego, który przedstawił tę opowieść Krzysztofowi Chomiczowi (również wychowankowi domu dziecka, tylko ze znacznie młodszego rocznika). Temu zaś udało się zainteresować tematem reżyserkę: Małgorzatę Gwiazdę- Elmerych i tak powstała:,,Widokówka". Czerniejewskie Stowarzyszenie Kulturalne Pokolenia we współpracy z Gminą Czerniejewo zaprosiło mieszkańców na projekcję filmu, wywiad z panią reżyser, rozmowę z Janem Kulpińskim, który był ostatnim kierownikiem Domu Dziecka. Pokazano też specjalnie przygotowany na tę okazję wywiad z Lachem, a po uroczystości wszyscy mogli podziwiać obrazy Aliny Piskorz, artystki działającej w Klubie Plastyka w gnieźnieńskim MOKU-u.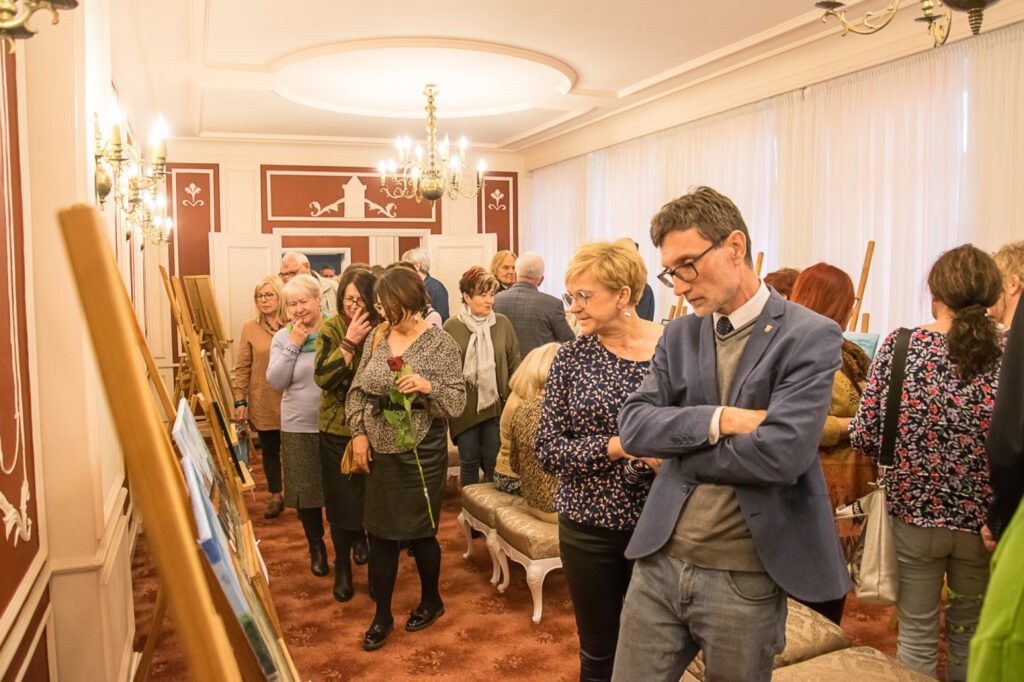 Publiczność dopisała. Osoby, które przyjechały z Poznania, przyznały później, że to była chwila możliwa tylko w mniejszej społeczności gdzie ludzie się znają, pamiętają z dawnych czasów, wciąż utrzymują kontakt lub chociaż pielęgnują pamięć o przeszłości… U naszych ukraińskich sąsiadów trwa wojna, całe rodziny goszczą u mieszkańców gminy w domach, przyjęci jak najlepsi przyjaciele. Pojawiła się w głowach organizatorów myśl, że to nie jest dobry moment, na wspominanie rzezi wołyńskiej i losów osieroconych wtedy dzieci. Ale zaraz za tą myślą przyszła następna: historia stosunków polsko-ukraińskich jest bardzo długa i skomplikowana. Jeden i drugi naród mógłby trwać w niezgodzie, wspominając różne rzeczy. Nie zapominając o bolesnej przeszłości, pokażemy, że przecież dziś Polacy otworzyli serca i domy, zdali najwyższy egzamin z człowieczeństwa. Ostatecznie zaś przekonał o tym Antoni Lach, który w rozmowie ze swoją córką powiedział słowa, które zacytowano na początku spotkania:,,Wybaczyłem, ale zapomnieć nie sposób". Uczymy więc historii kolejne pokolenia, aby nie zapomniały, ale nauczyły się wybaczać.
czerniejewo.pl