Gdy pierwszy raz usłyszałam, a raczej zobaczyłam na facebooku 3 lata temu, że w Gnieźnie lada moment otworzy się nowa, zupełnie inna, wyjątkowa kawiarnia, miejsce, którego dotąd w mieście nie było, od razu wiedziałam, że muszę tam iść. Dodatkowo urzekła mnie nazwa, bo cóż może na nas czekać w miejscu, które nazywa się CUD?
Nie myliłam się, przyszłam raz, zostałam na zawsze. Bywam tu w stałym gronie rodziny i znajomych, a także polecam osobom, które tego miejsca jeszcze nie znają. Na czym polega jego wyjątkowość? Na wystroju, klimacie, ale przede wszystkim na atmosferze, którą tworzą nietuzinkowi ludzie, profesjonaliści w swoim fachu, którzy kochają i znają się na tym co robią, tworzą to miejsce i jego nieprzeciętne menu.
Cud to niesamowity świat kawy, którego wcześniej nie znaliście.
Z Marcinem, twórcą, właścicielem, założycielem Cudu, a także nauczycielem w klasie barman barista w Domu Rzemiosła rozmawia Marta Bielawska-Borowiak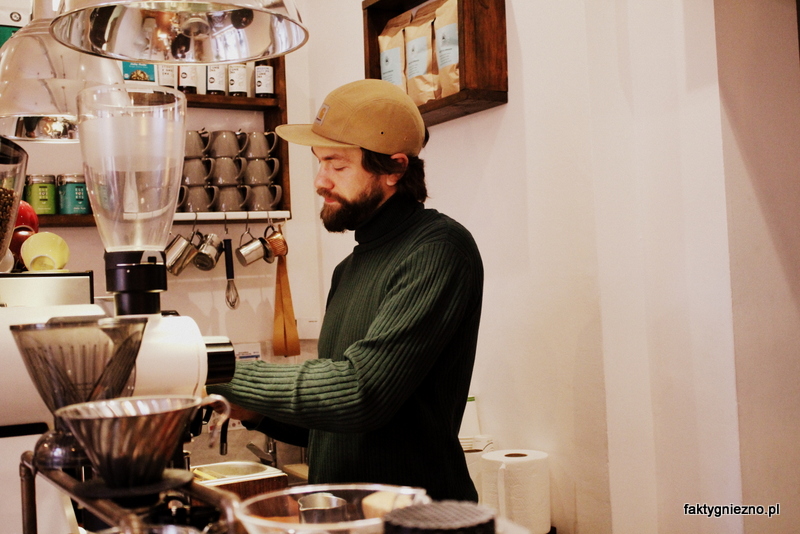 Miałeś wątpliwości, czy Cud w takim mieście jak Gniezno będzie dobrze przyjęty? Że wysiłek włożony w Cud i magia tego miejsca mogą nie być docenione?
– Zdecydowanie miałem wątpliwości. Jak ruszaliśmy, na samym początku były obawy. Speciality nie było czymś nowym w Polsce, ale obawy były co do samego Gniezna. Oczywiście na początku zrobiłem sobie research, lubię spontaniczność, ale jednak jak się inwestuje wszystko co się ma w coś swojego, warto się do tego przygotować. Kawiarnie speciality w innych miastach podobnych do Gniezna otwierały się i okazywało się, że dużo tych miejsc upadało w takich małych społecznościach. Musieliśmy zadać sobie pytanie czy ryzykować i czy w taki segment uderzać, a z drugiej strony mówiliśmy sobie, że jak nie zaryzykujemy to się nie przekonamy czy to ma sens. Wyszliśmy z założenia, że kluczowe jest, jak ten produkt będziemy w stanie przedstawić.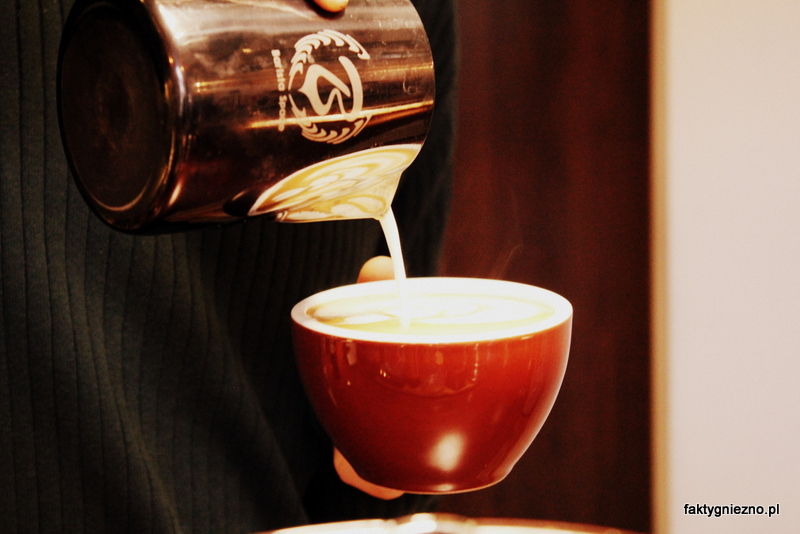 Gdzie zdobyłeś doświadczenie. Jak to wpłynęło na twój kawowy świat?
– Miejsce w którym dużo się nauczyłem, ale jednocześnie już bym więcej nie chciał do niego wracać, to jest korpo. Ale dzięki temu miałem środki, żeby tu zacząć i realizować to co robimy teraz. Nie uważam, że to co robiłem to był czas stracony. Nauczyłem się organizacji pracy, chociaż akurat u mnie wykształtował się pracoholizm. Jest to pewna konsekwencja tego co robię dzisiaj. Ta obowiązkowość i to, że wszystko musi być dopięte na ostatni guzik. Ja nigdy nie mogę powiedzieć, że odpoczywam, pracuję cały czas, ale kocham to co robię. I czasem są takie momenty, że mimo, że prowadzisz swój własny biznes i teoretycznie możesz wrzucić na drzwi tabliczkę "zamknięte jesteśmy zmęczeni" i nikt mnie za to nie zwolni, mimo momentu, że człowiek jest mega zmęczony, to praca w ciągłym pędzie wykształciła we mnie, w nas, bo Ania również miała doświadczenia z podobnymi biznesami, to, że zdaję sobie sprawę, że klienci postrzegają to zupełnie inaczej. Jest to postrzegane jako komunikat marketingowy. Człowiek jest na tyle świadomy, że takie odbierane przez klienta nie oddziałuje dobrze.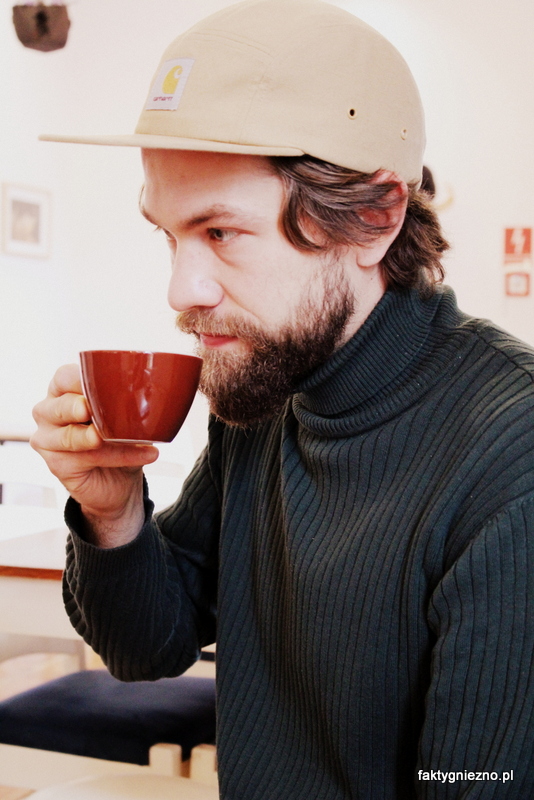 Co według ciebie składa się na proces tworzenia specyfiki miejsca, takiego jakim jest Cud?
– Bardzo ważny jest odbiór miejsca, zaopiekowanie się klientem. To oczywiście nie dotyczy tylko gastronomii. Praca w dużych firmach nauczyła nas obowiązkowości. Tego, co robiłem kiedyś, a to co robię teraz, nie da się porównać. Cud sprawia mi turbo dużo przyjemności, mimo że człowiek obowiązkowo podchodzi do tego co robi i wkłada w to całe serce i siły. Kocham to co robię i robię to na produktach, które lubię, znam, sprawdzam i pod którymi się podpisuję przede wszystkim. Praca w korpo i dużych restauracjach często wymagała od pracownika, żeby się podpisywał pod tym produktem, sprzedawał jak najlepiej, mimo, że nie zgrywało się to z jego osobistym odczuciem. Teraz mam ten przywilej, że to jest naprawdę nasze, że możemy to sprawdzić. Bardzo często z całą ekipą sprawdzamy, degustujemy i oceniamy na przykład nowości z palarni. Całym teamem decydujemy co zamawiać. Wszystko przechodzi przez moje kubki smakowe, wiem, że to co sprzedaję jest mega jakości i z radością to mogę zaoferować. Zawsze chcę klienta zainteresować tematem. Cud to taka mała świątynia kawy i wiedzy o kawie. Od dawna testujemy i sprzedajemy kawy, nowości na rynku, nowe metody obróbki ziarna itp. Nawet jak ktoś lubi kawę, to nie musi wszystkiego o niej wiedzieć. A my chcemy zaopiekować się klientem, zaciekawić go. I każdego dnia pokazujemy, że nasze miejsce nie wzięło się z mody czy znikąd, ale z wiedzy i pasji.
Coraz więcej jest klientów którzy wiedzą czego chcą, mają wymagania co do obsługi i to się szybko weryfikuje. To jest fajne i buduje wokół miejsc, takich jak nasze, stałą klientelę, która się identyfikuje, utożsamia z miejscem. To jest magiczne, zwłaszcza w takich małych społecznościach jak Gniezno. Wielu moich nowych znajomych znam z perspektywy Cudu. Wiedzą, że tu zawsze będę, wiedzą, gdzie mnie znaleźć. Ma to wymiar taki rodzinny.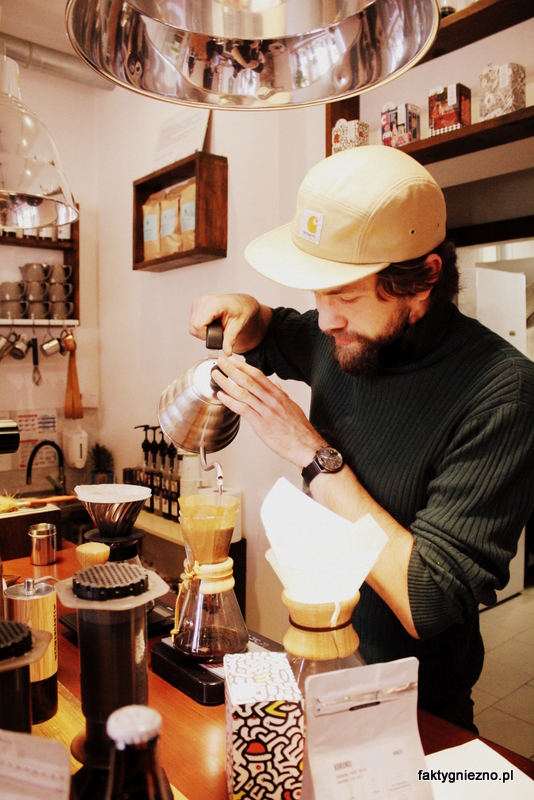 Opowiedz o podróżach i ich wpływie na Cud i twoje życie
– Dużo nauczyłem się mieszkając za granicą (głównie Manchester, ale podróżowaliśmy po całym świecie) wiele obserwowałem i zawsze mnie interesowało nie tylko najbliższe podwórko. Na początku moją opiekunką była moja żona, a wtedy jeszcze koleżanka, Ania. Pamiętam nasz pierwszy trip autostopowy, zawsze gdzieś nas gnało na zwiedzanie. Dlatego też poszedłem na kulturoznawstwo, bo mega mnie interesowało przenikanie i różnice kultur. Pocztówki i zdjęcia w Cudzie są nasze, z naszych podróży. Gdyby zebrać pamiątki z wszystkich wyjazdów byłoby tu bardzo podróżniczo, ale nie chcieliśmy narzucać temu miejscu aż tak podróżniczego stylu. Podróże otworzyły nam oczy na wiele rzeczy.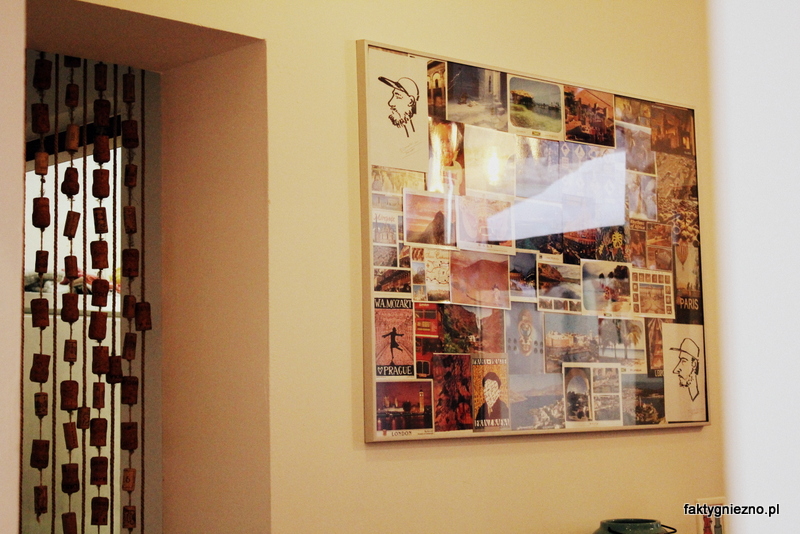 Nie da się ukryć, że atmosfera Cudu różni się znacznie od innych kawiarni w Gnieźnie. Tutaj już od progu można poczuć się jak u siebie
– Od samego początku otwarcia Cudu starałem się skracać dystans między klientem, nie znaliśmy się wcześniej, ale mówiłem "cześć". Tym się kieruję w życiu, ale w Polsce tego brakuje. Ludzie czasem patrzyli na mnie dziwnie, ale wychodzę z założenia, że życie powinno być przyjemniejsze i żeby łatwiej się funkcjonowało człowiekowi powinniśmy skracać dystanse. Zawsze mi imponowało to np. w Anglii, Francji, czy też Włosi są tacy bezpośredni, a u nas brakuje tego luzu. Za granicą to jest normalne, ale to miejsce jest namacalnym przykładem, że osoby, które poznałem po otwarciu Cudu, podzielają taki styl bycia. Czasem mnie ktoś pyta czy mi nie brakuje towarzyskiego życia. Wtedy mówię, to tu mam towarzyskie życie, wszyscy wiedza że tu jestem. Rodzina, bliżsi i dalsi znajomi, znajdą mnie tu zawsze. Nie brakuje mi towarzyskich spotkań, bo tu mam wszystko.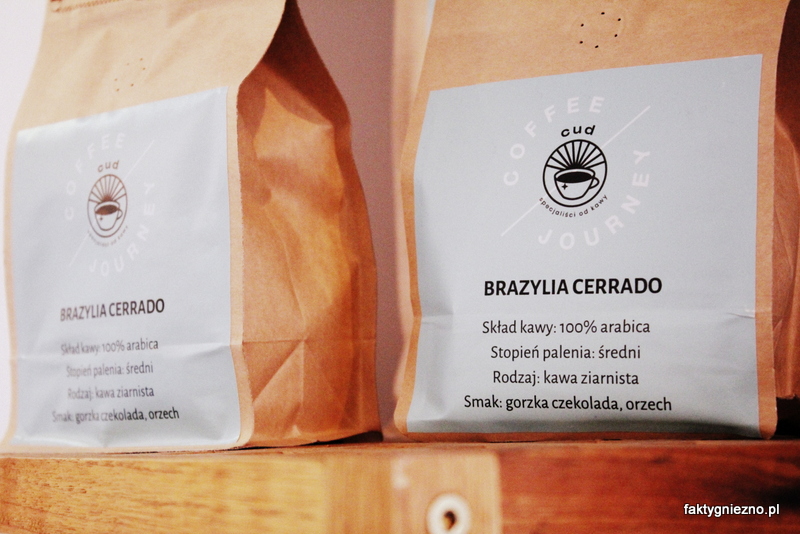 Podobnie jest z pracownikami
– Tak samo zawsze staram się zaaranżować przestrzeń wokół siebie. Buduję team wśród pracowników, tu jestem częściej niż w domu. Nie mogę stworzyć toksycznej atmosfery, razem tworzymy z ekipą to miejsce. Ważne jest dla nas, żeby ci ludzie podzielali nasze zdanie i chcieli uczestniczyć w życiu cudowym, a nie przychodzili do pracy za karę. Każdy daje coś od siebie i czuje się tu dobrze. To wychodzi naturalnie. Jesteśmy też miejscem treningowym dla młodych, którzy chcą się rozwijać. Każdy chce poczucia, że się rozwija, a nie stoi w miejscu.
Po to chcę gdzieś wyjść, żeby ktoś się mną zaopiekował, żeby to był miły czas. Chcę odpocząć, a nie denerwować na kogoś kto obsługuje. W bardziej otwartych miejscach człowiek zupełnie inaczej ten czas spędza. Obsługa i klient czują się dobrze, to takie perpetuum mobile, nawet gdy trafi się trudniejsza sytuacja. Ważne jest też, jak sobie zaprogramujemy dzień w głowie rano.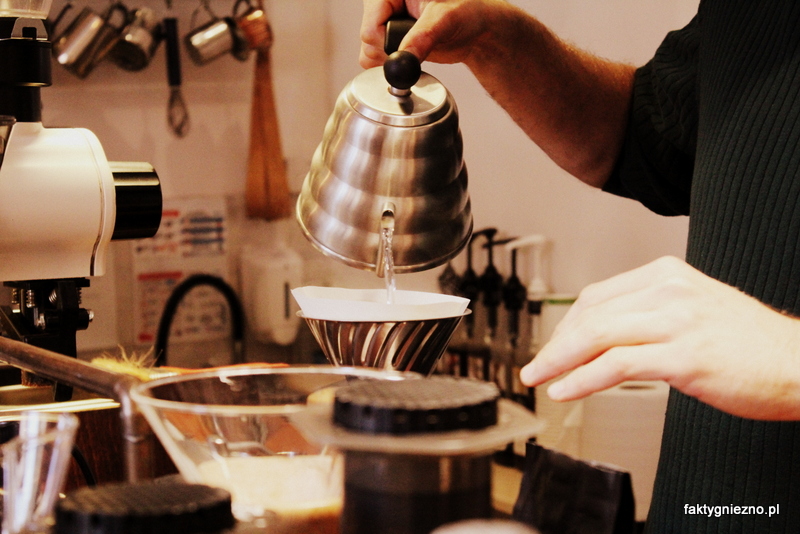 Choć ciężko mi w to uwierzyć, zważywszy na to jak przyjazne jest to miejsce, ale zapewne czasami zdarzają się jakieś problemy i trudni klienci
– Nauczyłem się nie brać negatywnych opinii, bez ważnego podłoża, do siebie. I nauczyłem się podchodzić do każdego gościa z pozytywnym nastawieniem i zawsze zaradzić sytuacji, wytłumaczyć, znaleźć złoty środek. Już od wejścia idzie wyczuć humor i z jakim nastawieniem kto przychodzi. Staram się, by z Cudu każdy wyszedł zadowolony.
Zdarzają się różni ludzie i staramy się do każdego podejść tak, żeby byli zadowoleni. Wszystkie produkty mamy zawsze świeże, datujemy, pilnujemy, by co dzień wszystko było nowe i świeże. Nie zdarza się, żeby ciasta leżały ileś dni. Każdy z ekipy ma też okazję spróbować każdego ciasta, żeby wiedzieć też o czym mówi i co proponuje klientom. Chcemy, żeby klient wiedział, że znamy ten produkt i wiemy o co chodzi. Widziałem miejsca, w które w wystrój i sprzęt było bardzo dużo włożone, ale pracownik nie umiał polecić nawet jednej rzeczy z karty.
Ważne, żeby wiedzieć o czym mówimy. Klient pomyśli, wydaje się smaczne, fajnie to przedstawił i zgadza się to ze smakiem i oczekiwaniem gości. Dużo rzeczy robimy na świeżo każdego dnia.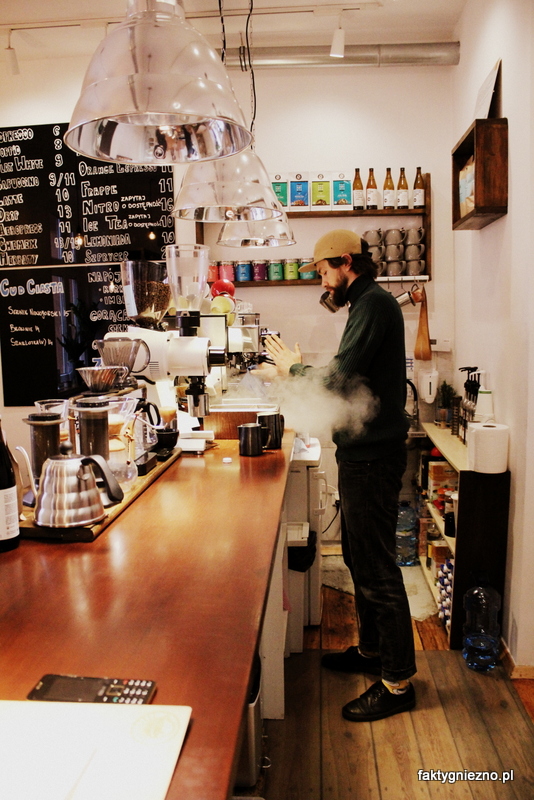 Będąc u was czuję się dobrze, czuję, że pracujecie z pasji
– Od samego początku staramy się stworzyć tutaj atmosferę tak, żeby samemu się tu dobrze czuć. Nie jest to łatwa praca. To praca wymagająca dużego zaangażowania, fizyczna, ale nie traktujemy jej jak przymus. Mówię sobie codziennie rano, że będzie to fajny, nowy dzień. Mimo, że na koniec dnia czuję stricte fizyczne zmęczenie. Z zewnątrz ktoś może pomyśleć, że moje życie wygląda tak: kawka, znajomi, pogaduchy, a to tak do końca nie jest. Rzeczywiście lubię to robić, ale nie widać zakulisowych momentów prowadzenia takiego biznesu. Cały czas jest presja, jest ruch, praca z klientem i trzeba cały czas uważać, żeby wszyscy byli zadowoleni. Jest to męczące, nie negatywnie, ale po prostu fizycznie.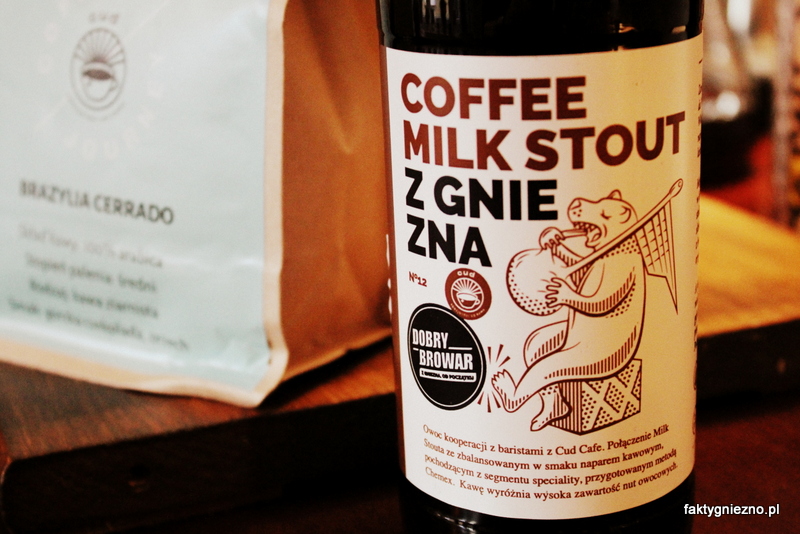 Skąd się wzięła kawiarnia. Jakie były początki?
Właściwie od początku naszej, jeśli można tak powiedzieć, kariery zawodowej wszędzie gdzie pracowaliśmy od czasów studenckich z Anią, a także przez różne podróże, bardzo dobrze poznaliśmy gastronomię. Dla mnie jedzenie ma kulturowy wymiar. W każdym kraju na świecie jest inna kultura jedzenia. Ma to wymiar przerwy w życiu, zwolnienia tempa. Na przykład Włosi, czy Francuzi są bardzo rozwinięci żywieniowo. Albo w Azji i cały ich street food. Każdy kraj ma coś niepowtarzalnego w sobie, jeżeli chodzi o kulturę jedzenia. Zawsze nas to bardzo interesowało. I dojrzewało w nas, a że pracowaliśmy zawsze w gastronomii, albo za barem, albo w restauracjach, to wygenerowało chęć stworzenia własnego miejsca. Ja się rozwinąłem głównie pod kątem baristycznym. U Ani to, że piecze ciasta, to jest taka wypadkowa. Zawsze lubiła tworzyć, budować ładne rzeczy, interesowała się scenografią teatralną. Ani też zawsze podobał się film "Czekolada". Pierwsze torty piekła dla znajomych, jeszcze w Anglii, i to ewoluowało w pracownię. Już w Anglii myśleliśmy, żeby stworzyć coś swojego.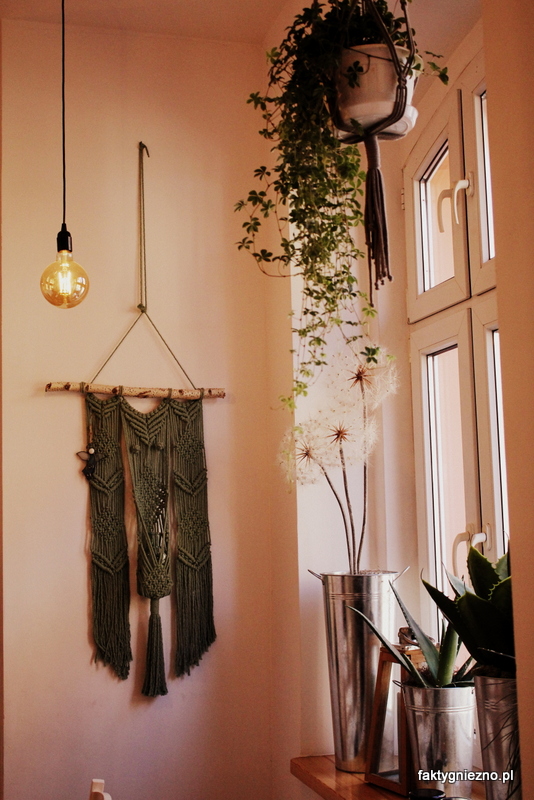 Nazwa Cud jest bardzo oryginalna i na pewno nieprzypadkowa
– I stąd się właśnie wzięła nazwa CUD. Bo jak wyjeżdżaliśmy powiedzieliśmy sobie, że to będzie jakiś cud, jeśli nam się tutaj uda. No i się udało. Początek to 5-6 lat w UK, przygody po drodze, kolejne doświadczenia w gastronomii i praca dla dużych firm kawowych, stąd nasze doświadczenie. Potem pomału rozważaliśmy powrót do Polski i to, że fajnie byłoby otworzyć coś tutaj. Motorem zapalnym tego, że wróciliśmy, był Leon. Urodził się jeszcze w UK, a po 3 miesiącach wróciliśmy. W moim i Ani przypadku dużą rolę w życiu odgrywali dziadkowie i nie chcieliśmy tego pozbawiać naszego syna. Kontakt z dziadkami, mieszkając za granicą, to kontakt kilka razy w roku. Niestety minusem emigracji jest to, że nie ma najbliższej rodziny na wyciągnięcie ręki. A obecnie Leon będzie miał braciszka, który w czerwcu dołączy do Cudowego klubu.
Więc w dużym skrócie to był cud. Od samego początku pojawiały się problemy, potrzebne było dużo pozwoleń i do samego końca nie byliśmy pewni czy się uda, ale się udało.
Cud był bardzo przemyślanym pomysłem. Na końcu w Anglii pracowałem na lotnisku, gdzie była to stricre praca zarobkowa. Jak już wiedzieliśmy, że Ania jest w ciąży, zaczęliśmy planować powrót do Polski i od pomysłu de realizacji mamy swój Cud.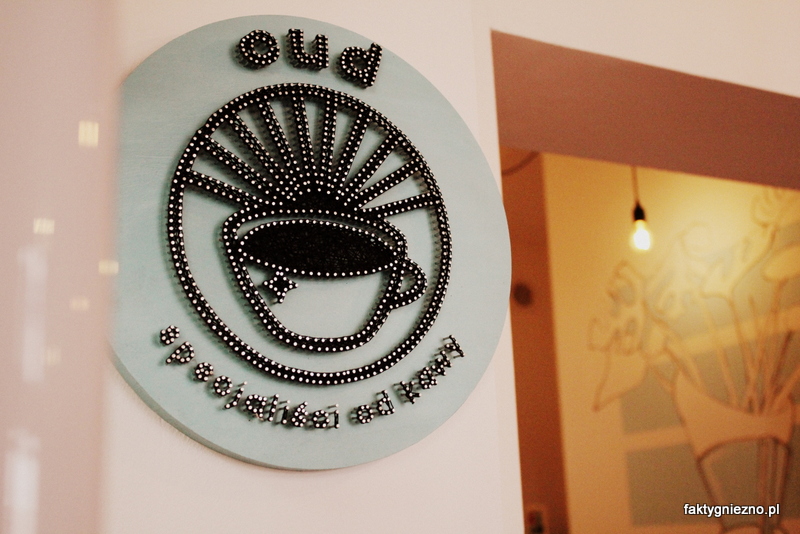 W kawiarni panuje artystyczny i oryginalny wystrój. Skąd pomysł?
– Pomysł na wystrój wyszedł naturalnie – dużo rzeczy jest z odzysku, są odrestaurowane fotele, ozdoby są dziełem Ani lub naszych klientów. Sam spawałem blat, są stare, oryginalne podłogi. To miejsce to było mieszkanie mojego dziadka, więc to jest nasze i dlatego to jest piękne. Fotele sam odrestaurowywałem, stoliki są z likwidacji szkolnych stolików. Wszystko prawie jest handmade. Jeden stół przyjechał z nami z Anglii, kupiliśmy go za 5 funtów w charity shopie. Żeby nie generować śmieci i nie wyrzucać, ściągnęliśmy wszystko co może się przydać. Stół 5 lat służył nam w Anglii, a teraz już tu od początku Cudu. Dekoracje takie jak mural czy logo cudu są dziełami naszych klientów. Logo zaprojektowała nasza klientka, Maja Jagielska, która z zawodu jest grafikiem. Zaprojektowała też logo Latarni na Wenei.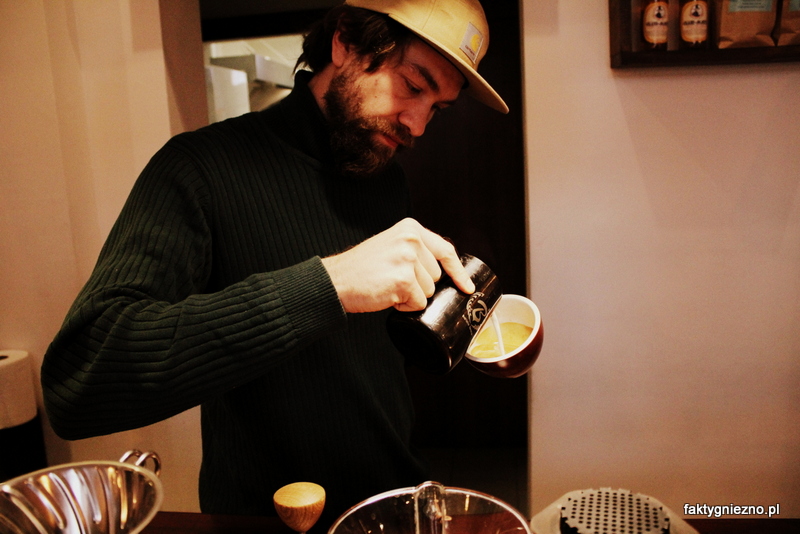 A pomysły na ciasta? Nie pamiętam, żeby jakieś się kiedykolwiek powtórzyło.
– Pomysły na ciasta to Ani inwencja i kreatywność. Większość to pomysły Ani, nawet jeśli są gotowe przepisy, to Ania je modyfikuje, żeby były oryginalne i niepowtarzalne.
Torty Ani też nie wyglądały od początku tak jak teraz, zaczynała dla znajomych jeszcze w UK. Nie była cukiernikiem, nie pracowała jako cukiernik i nie zakładaliśmy, że będzie aż tyle ciast, ale to się rozkręciło tak, że zapotrzebowanie jest dużo większe. Nie spodziewaliśmy się, że Cud się tak rozkręci w stronę ciast. Koniecznością było więc stworzenie pracowni cukierniczej, bo wcześniej robiliśmy wszystko tutaj w Cudzie.
Oprócz Cudu i pracowni cukierniczej 8 grudnia 2021 w Gnieźnie otworzył się Cud 2.0, a relację z tego wydarzenia można przeczytać tutaj: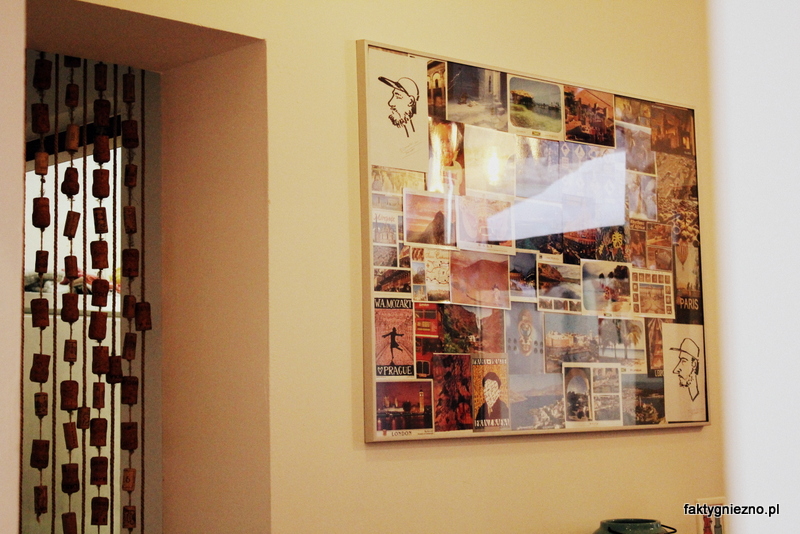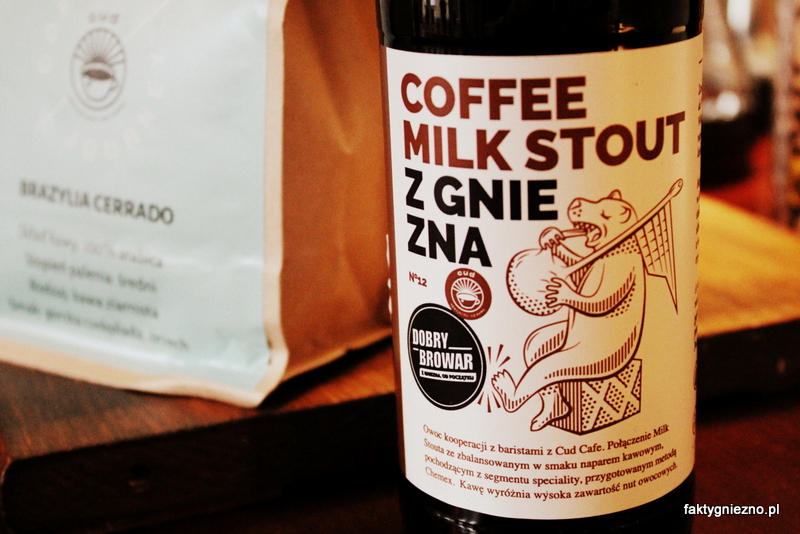 fot. Marta Bielawska-Borowiak