Rok 2022 dopiero co się zaczął, a za nami już styczeń. Co powiecie na to, by resztę roku spędzić z … poetą Krzysztofem Szymoniakiem, tak dzień po dniu.
Od lutego, co miesiąc, na internetowych stronach Biblioteka Publiczna Miasta Gniezna będzie publikować literacko-fotograficzne wspomnienia "365. ARCHEOLOGIA PAMIĘCI. GNIEZNO 2022". Tym samym – pod koniec 2022 roku – powstanie zapis całego roku wspomnień. Tak o swoim najnowszym literackim projekcie mówi sam autor:
"365. ARCHEOLOGIA PAMIĘCI. GNIEZNO 2022" – to całoroczny projekt literacko-fotograficzny, który od początku do końca poświęcony jest miastu, gdzie autor projektu mieszka, pracuje i tworzy od 53 lat. Jest to, rozpisana na kolejne dni roku 2022, rozwijająca się linearnie opowieść o miejscu na Ziemi, o punkcie na mapie, opowieść, w której życie i wszelkie związane z tym perypetie osobiste i zawodowe autora stają się swego rodzaju pretekstem do pokazania, a może tylko przypomnienia Gniezna (i jego przemian) jako małej ojczyzny. Rzecz rozgrywa się głównie na poziomie gawędy autobiograficznej, ale także na poziomie refleksji o czasie i przestrzeni, w których dzieje się nasz świat oraz trwa każde jednostkowe ludzkie istnienie. Najkrócej rzecz ujmując, autor zabiera Czytelnika w podróż po zakamarkach własnej pamięci, z której wyłania się Gniezno, jakiego już nie ma, a o którym warto być może pamiętać, bo w przeszłości lat 70., 80., 90. i tej najnowszej – już XXI-wiecznej, która jest przeszłością każdego z nas, ukrywa się nasz gnieźnieński los. Los, który nie tylko definiuje nasze tu i teraz, ale także jest kluczem do wspólnej, zbiorowej pamięci o mieście – jak ujął to w swojej opowieści autor – "mieście o przeszłości wielkiej i przyszłości niewątpliwej". Przeszłość osobista autora związanego z Gnieznem ma dopiero 53 lata, ale jest to przecież także przeszłość naszych dziadków i rodziców, przeszłość, do której kiedyś odwołają się (lub już się odwołują) nasze dzieci, pragnąc zrozumieć Gniezno swojej młodości oraz zaakceptować lub potwierdzić własnym doświadczeniem fakt istnienia wielu jego twarzy, jak to zwykle bywa w życiu miasta i ludzi. Zaprezentowane tutaj krótkie teksty powstają w czasie rzeczywistym (i tak będą powstawać przez cały ten rok), a ich wymiar literacki wzmacnia autor własnymi fotografiami Gniezna z lat 2010-2015. Zdjęcia te pełnią rolę ilustracji (estetycznej, topograficznej, ale i historycznej) i z rzadka tylko są jednoznacznym uzupełnieniem treści poprzedzających je fragmentów prozy. Czytelnik znajdzie na nich miejsca, których już nie ma, albo które zmieniają się i odchodzą w inny wymiar, wymiar dynamicznie dziejącej się, płynnej, nieprzewidywalnej teraźniejszości".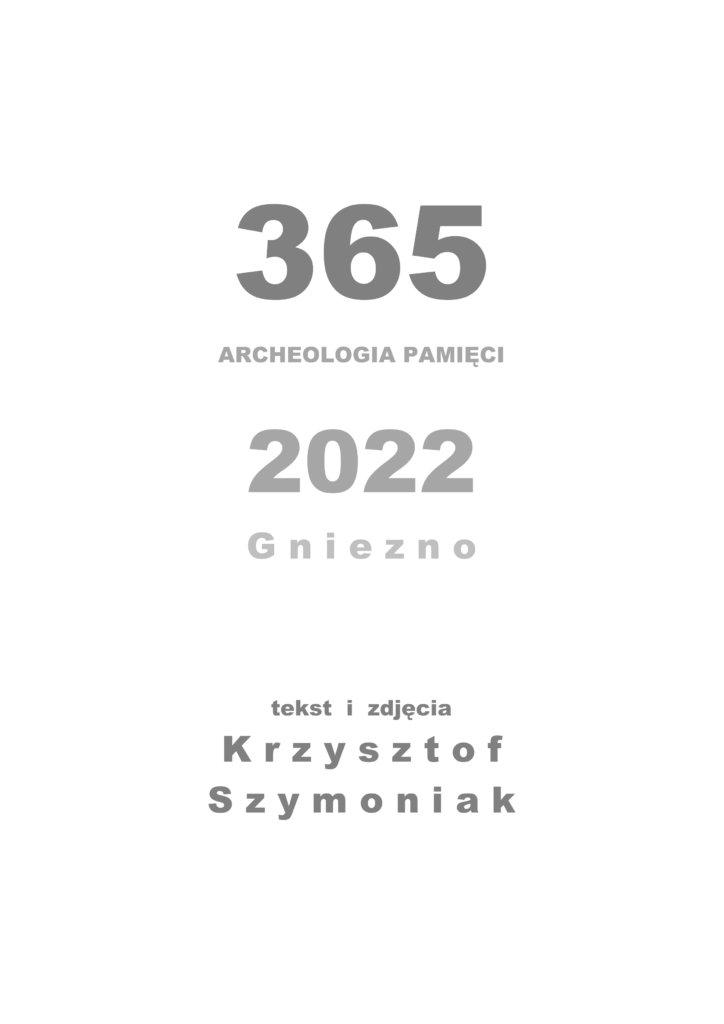 Biblioteka zachęca wszystkich do wspólnej podróży z Krzysztofem Szymoniakiem. Podróży, w której poeta – i fotografik – będzie przewodnikiem po Gnieźnie – mieście, które jest i którego nie ma. Albo raczej które było i znów powraca w 365 kawałkach pamięci.
Styczniowe fragmenty można znaleźć tutaj.
Biblioteka Publiczna Miasta Gniezna